Los primeros invitados a la boda real del príncipe Guillermo y a su prometida, Kate Middleton, han comenzado a llegar a la Abadía de Westminster, que van completando las localidades habilitadas para los 1.900 asistentes que se prevén, mientras los desfiles con motivo de la ceremonia continúan en las calles desde primera hora.
Kate Middleton, la futura esposa del Príncipe Guillermo, llegó este viernes a la Abadía de Westminter enfundada en un hermoso vestido blanco marfil, con larga cola, velo y tiara, bajo los gritos entusiastas de miles de admiradores.

El vestido fue diseñado por la sucesora de McQueen, Sarah Burton, directora artística de esa casa tras el suicidio del creador, el año pasado.

La futura princesa Catalina entró a la Abadía acompañada de su padre, que la condujo al altar, donde la espera el príncipe Guillermo.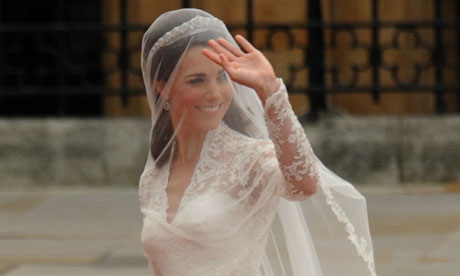 The world was given its first tantalising glimpse of bride Kate Middleton in her wedding dress today as she left to meet her royal groom at the altar.
As the soon-to-be HRH set off from the exclusive Goring Hotel in London with her proud father Michael, the ecstatic crowds lining the processional route cheered as they caught sight of the future princess and her much-anticipated bridal gown.
Through the windows of the Rolls-Royce Phantom VI, the bride could be seen to be wearing ivory dress with long sleeves and open neck, with a veil covering her face.
Royal bride Kate Middleton's wedding dress is an
ivory and white satin gazar, the skirt resembles "an opening flower" with white satin gazar arches and pleats.
Fotos: elespectador, larazon, dailymail.